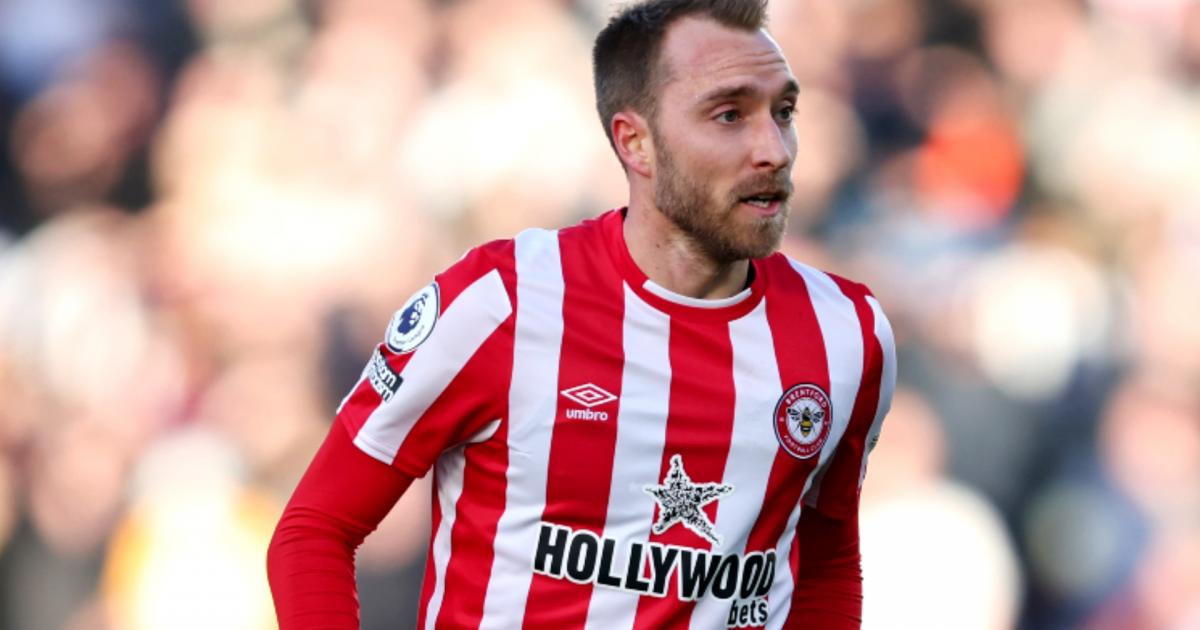 Brentford has endured a tough second half to their first Premier League season despite starting brightly
The Bees however have landed on their starman who is leading the bailing from the relegation zone
Christian Eriksen has been very impressive since joining Brentford in January and has played a crucial factor in Thomas Frank's midfield
Brentford enjoyed a fast start to life in the Premier League and their story was one of the season's memorable stories, but they hadn't even reached the end of their maiden campaign at this level before the wheels started to come off. Their 'second season syndrome' was actually 'second half of the season syndrome'.
Head coach Thomas Frank has refuted claims that Brentford played consistently badly across a run of eight winless games (which included seven defeats), but it did feel like teams had begun to figure his side out, frustrating and stifling their attack and poking holes in their defence.
Fans bemoaned they had strayed too far from a survival blueprint that resembled Sam Allardyce's Bolton – a reliance on set pieces and getting the ball into statistically dangerous areas – to one that was simply a hit-and-hope long ball game. Frank's insistence to stick with a predictable 3-5-2 was also criticised.
A change was needed, and fortunately for the Bees, they had the perfect trump card to help play their way out of relegation danger.
Following his release from Inter, Frank phoned Christian Eriksen – a player he had coached in the Danish youth setup – to gauge his thoughts about a move to Brentford back in December. A month later, now around the time cracks were starting to appear in their survival hopes, the midfielder became the highest-profile signing in the club's history.
There was plenty of interest in his services, but Eriksen insisted that Brentford was a perfect first step back into football following his cardiac arrest last summer – he's lived in London and played in the Premier League before, while he knew several players from Denmark setup plying their trade with the Bees.
Eriksen made his Brentford debut and remarkable return to football amid strange circumstances, with his new side two goals and a man down at home to fellow strugglers Newcastle. He came on in place of Mathias Jensen – who had been substituted on for Eriksen on that awful day in June – and completed around 40 minutes in the final game of Brentford's eight-match streak.
Despite the scenario in which Eriksen was brought into that game, Frank had begun planting the seeds to halt that run. He switched to a 4-3-3 formation prior to Josh Dasilva's tenth-minute red card, while bringing the 30-year-old back into the fold already looked a masterstroke, with the Bees looking much more dangerous with him on the pitch already.
Brentford would not have been able to have signed a player of Eriksen's quality under normal circumstances, but their steely yet innovative approach to football operations and prior connections to the player helped pull off one of the steals of the season.
"For me, it was not a gamble. I was convinced he could help us and that he could be the best signing ever for Brentford," Frank said recently.
"It was not an injury, it was a heart condition. So he wouldn't have lost any speed or anything. There's a mental issue but when he decided he wanted to play that was it."
Ultimately, Brentford was signing one of the Premier League's best playmakers of the last decade, someone who has consistently rivalled Kevin De Bruyne and co for assists, chances created, goals from outside the box crosses, you name it – if there's a creative stat, Eriksen has at least been on the Premier League podium for it.
On Eriksen's first start, Brentford sealed just their second Premier League win of 2022 with an emphatic 3-1 victory at Norwich to ease relegation concerns, spreading the game in a way none of his teammates could and taking the well-worked corner that led to Ivan Toney's opener.
His home debut was even better. 85 minutes into a tight and tense 0-0 draw with Burnley, Eriksen shifted into the left half-space that was his happy hunting ground earlier in his career at Tottenham. With time to set himself, he played his signature weak-foot cross towards the far end of the six-yard box, spotting that Toney had peeled off the back of James Tarkowski.
Toney's emphatic header followed by a penalty – which he won after running on to a through ball from Eriksen – secured Brentford's first back-to-back wins in the Premier League, moving them nine points clear of the relegation zone.
Let's not play down how much staying up means, either. It's easy to sit there and say 'Brentford should just enjoy the experience. That's much harder to do when you go eight games without a win when your form is spiralling out of control with seemingly no way to get it back up again. It makes the contrast of watching Eriksen come in and almost will them to victory all the merrier.
Eriksen's marvel and wonder make him a special player to watch on a normal day, boasting a cool and collected skillset unmatched in red and white, with his unique comeback story adding another layer to what's shaping up to be a memorable season in Brentford history.
Helping the Bees stay up should also secure his legendary status in west London, even if his spell lasts six months. Such a short stay may even enhance that legacy. Years from now, fans of various clubs will look back and say 'hey, remember when Christian Eriksen played for Brentford and was really, really good? That was weird, wasn't it?'.
Eriksen is already a Premier League great, thanks to his times in Tottenham Hotspur but now he's preserving his status in history as a cultural icon, too.