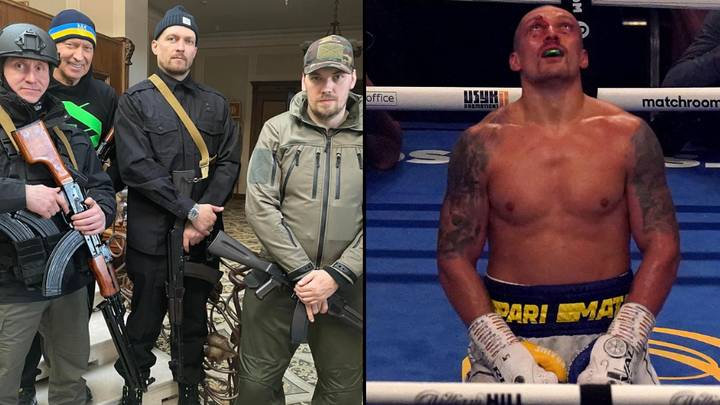 Russia Ukraine war has roped in top athletes who are now fighting the invaders

Among them is a former boxer and Kyiv Mayor

Vitaly Klitschko together with his brother Wladimir

Vasiliy Lomachenko is also fighting
Russia Ukraine war is a new phenomenon in the 21st century, and the most intriguing part of is that athletes are actively defending their country.
On February 24th, Russian President Vladimir Putin made a pre-dawn television address saying Russia could not feel secure, due to continuous threats from Ukraine.
Putin irrationally stated that his purpose was to defend those who had been bullied and murdered. That is why he sought for the "demilitarization and de-Nazification" of Ukraine led by a Jewish president, Volodymyr Zelensky.
As soon as Putin personally gave the order to attack, Russia launched a full-scale war on Ukraine now in its third week.
Branded as the 'bitter ex-lover', Russia brought in missiles and bombs from Belarus. It did not leave behind rolling tanks from the border, parachuting troops into the east, and massive explosions across the country.
Russian forces are currently shelling Kyiv, Ukraine's capital. But even as the Russia Ukraine war continues, athletes from the latter are defending their mother country by the barrel of a gun.
But, who are they?
ALEXANDR DOLGOPOLOV
Alexandr Dolgopolov made the decision to return to his native Ukraine and join the fight against Russia's invasion.
The Ukrainian tennis star, who peaked at No. 13 in the world in 2012, announced his retirement only a few years ago.
A week after finishing his training in Turkey, Dolgopolov returned to Ukraine and put on his protective gear before joining the Ukrainian resistance.
This is my home, and we will defend it with all the people that stayed," he wrote on Instagram.
"Big thanks and respect to all [Ukrainian] famous people on the grounds. I am proud of how united the country is under such pressure of a crazy dictator."
Before the Russia Ukraine war started, the tennis player flew to Turkey to be with his mother and sister. He then decided to return to Ukraine leaving them behind.
VITALY KLITSCHKO
Vitaly Klitschko, is Kyiv's frightening mayor. A former heavyweight boxing champion, Klitschko turned to politics, following in the footsteps of his brother Wladimir.
As Russia tightens its grip on the capital city, the huge ex-sportsman is working up the morale among Kyiv locals.
He attended a local territorial defense couple's wedding while in full combat gear. He is at the heart of Russia Ukraine war whose sad reality is shelling Kyiv.
VASILIY LOMACHENKO
Ukrainian Olympic gold winner Vasiliy Lomachenko reportedly returned from Greece to protect Odesa.
A source confirmed to ESPN that Lomachenko, 34, has been serving on a security detail near the Ukraine-Russian border since earlier this month.
As a two-division champion and Olympic gold medalist, Lomachenko agreed to fight Kambosos on June 5 in Melbourne, Australia. After the Russian invasion began, Lomachenko returned to Ukraine from Greece.
Ukraine's martial law bans able-bodied men between the ages of 18 and 60 from leaving the country in order to participate in the country's defense against Russian aggression.
OLEKSANDR USYK
Oleksandr Usyk, the reigning heavyweight world champion who defeated British fighter Anthony Joshua in London last year, enlisted in the army.
He said he has no fear. In a separate social media post published on Saturday, Usyk expressed gratitude to his fellow Ukrainians.
He thanked them for their extraordinary bravery throughout the conflict and expressed confidence that his country would never forget Putin's deeds.
SERGIY STAKHOVSKY
Ukrainian tennis player Sergiy Stakhovsky also left his family and joined the Territorial Army.
Stakhovsky beat Roger Federer to win Wimbledon Grand Slam in 2013. He says that he is not using a gun, but will not hesitate if the situation demands so.
LESYA VOROTNYK
Lesya Vorotnyk, a principal ballet dancer at Kyiv's National Opera, was photographed with a Kalashnikov and dressed in military garb last week.
OLEKSIY POTIOMKIN
She is another celebrated ballet dancer who is fighting in Kyiv.
DMYTRO PIDRUCHNY
Dmytro Pidruchny is defending his birthplace of Ternopil in western Ukraine. He competed in the 2014 and 2018 Winter Olympics.
DMYTRO MAZURCHUK
Dmytro Mazurchuk, a skier and biathlete is now at the centre of Russia Ukraine war.
At least one Ukrainian competitor has already paid the ultimate price, according to the International Biathlon Union.
Yevhen Malyshev, a 19-year-old former biathlete from Ukraine, was killed during the first week of the conflict, which occurred during the first week of combat.