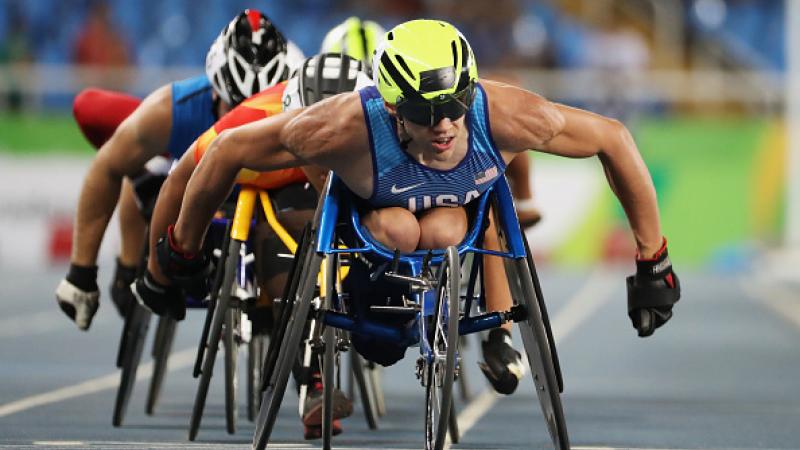 International Paralympic Committee has suspended Tunisian Para-athlete Yassine Gharbi a former world champion for the next three years after committing an anti-doping rule violation.
The 31-Year-old who Competes in Men's T54 class wheelchair racing will not be able to compete in competitive sports until 4 February 2024 due to a doping suspension.
He participated in the 2016 Paralympic Games and is a World Champion in both the 400 and 800-meter races.
Gharbi returned an adverse analytical finding for boldenone in an out-of-competition urine sample provided on December 7, 2020.
The substance is a banned anabolic androgenic steroid, known to increase muscle mass and strength.
Any results that Gharbi achieved after the date that the sample was provided will be disqualified.
He will also have to forfeit any medals, points, and prizes achieved after December 7, 2020.
Gharbi won a bronze medal at the Rio 2016 Paralympic Games in the men's T54 400 meters.
Gharbi also won two gold medals at the London 2017 World Para Athletics Championships in the 200m and 400m, as well as silver in the 1500m and bronze in the 800m.
Several athletes have been banned for taking boldenone in the past, with Jenrry Mejía one of the most notable examples.
The Dominican baseball pitcher was suspended in July 2015 when he tested positive for the drug, and in February 2016 he again tested positive for boldenone.
This marked his third positive test for a performance-enhancing drug, for which he received the first drugs-related lifetime ban in Major League Baseball history.
Three Colombian weightlifters tested positive for boldenone during the qualifying process for the Tokyo 2020 Olympics and claimed to have ingested the substance through tainted meat.
Elsewhere the Athletics Integrity Unit on Saturday burned two Kenyan athletes over the use of prohibited substances.
The two include Two-time Paris Marathon champion Paul Lonyangata who will be out from athletics for a year and seven months for the use of Furosemide.
Edward Kiprop 22, was also banned for three years after the sample findings showed positive for Metabolites of Nandrolone.
According to the AIU, Kiprop's sample was taken in-Competition, at the '30a Mitja Marato Internacional Vila de Santo Pola' in Santa Pola, Spain in January, and results coming out on February 4, showing the presence of Metabolites of Nandrolone.
In 1999, WADA was set up to regulate standards in anti-doping, following a major drug scandal at the 1998 Tour de France. It aims to "promote, coordinate and monitor the fight against doping in sport in all its forms."
WADA produces and annually updates the official list of banned substances or methods of doping.