The popularity of Cricket Sports in the world
How technology advancement is playing a significant role in Cricket Sports
Technology developments in cricket sports over centuries
Technological advancements to be expected by the year 2030 in Cricket Sports
Cricket is one of the most popular sports on the planet. The game has grown in popularity over the years thanks to technological advancements, with an estimated audience of over a billion people.
Since the first official cricket match between England and Australia at the Melbourne Cricket Ground on March 15, 1877, The Gentlemen's Game has progressed significantly, with technology playing a key role in its development.
The technological focus has shifted from broadcasting to introducing reforms in gameplay and decision-making. Technology in cricket has helped coaches to get the best out of players and teams.
This benefited spectators and players to evolve as ultimate winners to witness a higher level of sports.
     Technological advancement in cricket sports over time
If we divide technological developments into two categories, we may say that the twentieth century was dominated by advancements in broadcasting or commentary, whereas the twenty-first century was dominated by coaching techniques and analytical advances.
Let's move on to the some of incredible technical advancements in cricket from early centuries until later
Fergie's Wagon wheel (early twentieth-century cricket technology)
More than a century ago, an Australian clerk named Fergie devised a wagon wheel to display the batter's scoreboard's batting innings.
Despite the fact that more than a century has passed, the wagon wheel continues to play an important role in cricket.
On television screens, spectators can see graphical representations of batting shots; over time, these representations have evolved into three-dimensional graphical representations, but without a doubt, it provides an in-depth insight into the batter's flexibility in scoring multi-dimensional cricket shots.
The Bowling Machine (1985)
Michael Stuart designed the bowling machine in 1985 for the purpose of batting practice. The bowling machine ushered in a slew of new teaching advancements. Bowlers' spin and swing bowling styles can be replicated by this gadget.
The bowling machine uses two spinning wheels and one barrel to bowl sidespin, based on the rifling theory of sidespin.
New functions were soon added to this equipment, along with a remote-control system, to help coaches maintain track of hitters' batting skills for leg break and off-break pitches.
By maintaining seam orientations like genuine bowlers, this machine may create variations in ball speed and swing.
3.Third Umpire (1992)
During domestic cricket matches in 1992, the Sri Lankan squad was the first to conceptualize the third umpire technology in cricket.
The third umpire is an off-field umpire who assists on-field umpires in the event of a disagreement.
The third umpire has access to a variety of screen and replay capabilities that can assist on-field umpires in reaching a more scientific and practical decision.
Hawk-Eye – Ball Tracking System (2001)
Dr. Paul Hawkins, a British national, created Hawk-Eye technology in cricket in 2001 to make television broadcasts more interactive. Multiple cameras are installed beneath the stadium's roof to capture the ball from various angles, and the videos from six cameras are combined to generate a three-dimensional video.
Hawk's eye technology is commonly used for a second opinion, to determine the line and length of the delivered ball, the impact of the bowling delivery on the position of the batter's leg, and the projection of ball movement beyond.
The third umpire can examine deliveries bowled and their impact from various angles with Hawk's eye view, which aids decision-making.
   5.Descion Review System (DRS)
DRS is a technology-based system that assists third umpires in making better decisions. By referring the decision of the on-field umpire to the third umpire, each side of the players has a chance to contest it.
This is known as a player review, and it is used to appeal a dismissal. Only the captain of the bowling side can request a review, whereas the striker of the batting side can do so. Players have 15 seconds to choose whether or not to do a review.
The third empire uses DRS to gain a deeper knowledge of decisions by utilizing all angles and technical goals.
   6.Led Stumps Bails (2012)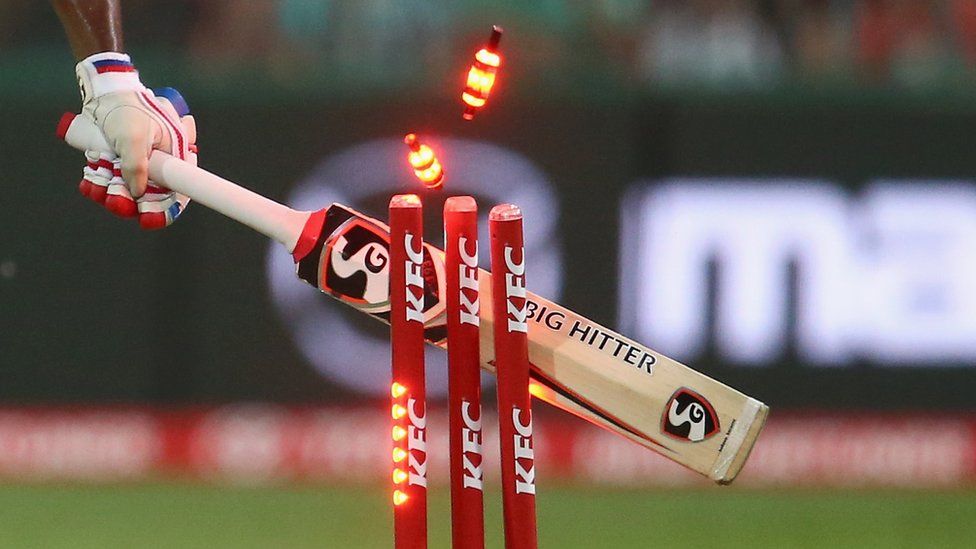 Bails have a microsensor that lights up when the bails or stumps are hit, according to Australian mechanical designer Bronte Ec Kermann. In runout or stump-out scenarios, led bails are extremely useful.
   7.Cricket Bat Sensor (2018)
In terms of upscaling cricket shots, the cricket bat sensor is one of the most groundbreaking technological breakthroughs in cricket. In 2018, str8bat released their first cricket bat sensor, which helps batters improve their game by recording and analyzing shot quality.
They can send their tape to their coach and compare their results after a set period of time. Batting stats and statistics can assist hitters in improving their game of cricket.
  8.Flying Camera/ Drone (2019)
By providing a bird's eye view of the entire cricket ground, flying cameras or drones assist in capturing a better 360-degree image of the cricket ground.
It primarily serves to enhance the game-watching experience. Drones could be considered a technological advancement in cricket as well.
Expected Cricket Sports Technology Developments by the year 2030
The retractable roof, allows the game of cricket to continue in severe weather.
Compression garments, are a type of wear that supports persons who must stand for lengthy periods of time or who have poor circulation.
No-ball sensor, to prevent no-ball calls that result in an extra run being added to the score.
The inertia sensor, detects changes in the spatial position of any body part, including as the wrist, elbow, and shoulder joints, to measure elbow extension and catch the bowler's illegal movement.