Uganda take slim advantage over South Africa in U-20 qualifiers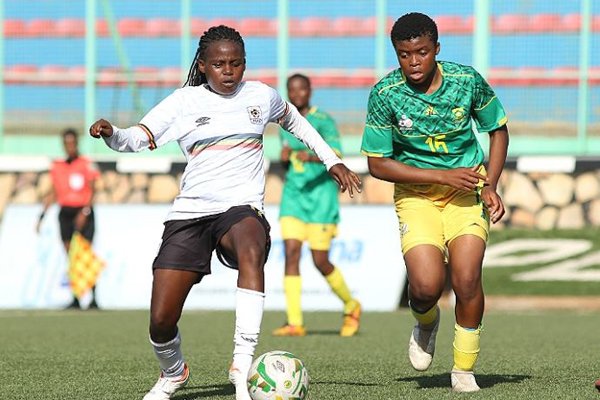 Uganda take slim advantage over South Africa in U-20 qualifiers. The absence of home fans at the St Mary's Stadium in Kitende did not deter the under 20 women side from taking a slim first-leg home advantage.
Hadijah Nandongo netted the lone goal as Uganda defeated South Africa in the third round of the women's world cup qualifiers on Friday evening.
The home side began brightly as left-back Sumaya Komuntale forced a save from the visitor's shot-stopper Ramisha in Nthabiseng the first minutes of the tie.
Moments later, Aisha Nantongo struck the crossbar as she was deployed in an unusual position with midfielder Shamirah Nalugya out due to an illness.
Striker Juliet Nalukenge was a little wasteful on the night as she missed scoring from two clear-cut chances. All was set in the 20th minute when Nandago's goal was assisted by Kunihira's delivery from a corner kick to give the home side the advantage.
Nandago's unbeatable form
Nandago headed home in the 19th minute, connecting in a well-weighed corner from Margaret Kunihira.
This was her fourth goal in seven games for Uganda. The other goals came from the teams Cecafa U-20 Women Championship against Burundi, Eritrea, and Djibouti. Uganda lost to Ethiopia in that tournament on home soil at the Fufa Technical Centre Njeru.
The on-form attacker was netting her second goal in the ongoing tournament with her previous one coming from the 3-1 home wins over Kenya in the previous round.
Uganda take slim advantage over South Africa in U-20 qualifiers, South Africa seemed to come into the game desiring an away result of a draw and thinking of settling matters in Johannesburg. They were too defensive in the first half.
However, upon conceding, they became more aggressive and pressed the home side hard. Captain Lonathemba Mhlongo and striker Joy Daniels Chelsea headed Fikile Magama's crosses over the bar in the first half.
Uganda missed a couple of chances in the second half which could have seen them kill off the game and brighten their chances further of eliminating South Africa with the return leg within a fortnight. 
What the Ugandan coach said
Ugandan coach, Ayub Khalifa Kiyingi believed winning at home would be a big boost in their pursuit to progress to the next stage.
While addressing the media before the game said the focus was about getting a victory in Kitende.
"We want to win at home because that gives us an advantage going into the return leg. The players have been prepared well and we hope that they execute the plan made, "he said.
The team must have learned their lessons having failed to win last month's U20 championship but better still, it was good preparation for this particular encounter.
Head to Head
Whereas the two sides had not met at this stage of senior-level, they faced each other two years ago during the Africa U-17 at COSAFA. The winner on aggregate will advance to the fourth round. 
Previous round performances
Mozambique lost to South Africa 4-2 on aggregate while Kenya was humbled 10-3 on aggregate to enable the two sides to face off.
Way forward
The Ugandan side now takes a slight advantage over their South African counterparts going into the second leg set for 17th December.
Unfortunately, they play in Johannesburg which makes it a tightly contested match. Uganda will hope to ride on the 1-0 advantage with a draw or win being enough to see them sail through.
However, South Africa will need a must-win of any kind to see them overcome their opponents if they are to stand any chance of progressing to the next level.
The Africa U-20 Women's World Cup qualification is a tournament that is held every two years. It seeks to serve as a qualifying tournament for the FIFA U-20 Women's World Cup.
The winner on aggregate will advance to the fourth round where they will face either Ghana or Zambia.
In other results, Botswana lost 1-3 at home to Ethiopia in the same campaign while Tanzania is set to lock horns with Burundi on December 4th in Tanzania.