Serena Williams ready for 2022 Australia Open as injury heals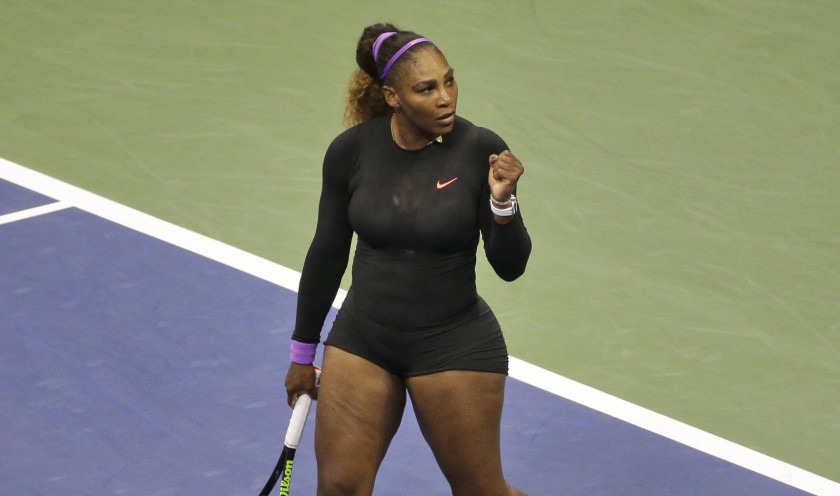 As tennis stars wind up the 2021 season, Serena Williams is getting ready for the 2022 Australian Open. The hamstring injury that kept her off the court – including the U.S Open – is healing well.
In the latest update during an interview with Jimmy Kimmel Show, she said that her recovery is much better. Also that she is hoping to make a grand return at the Australian open next year.
"The hamstring is better. It took a long time, it took forever, but it's much better now," she said.
Serena Williams Injury
The 40-year-old American picked up a torn hamstring after a first-round match at Wimbledon in August. She was playing on a grass court which she loves but a slip left her with a hamstring injury.
She resigned to fate and pulled out of the U.S Open at Flushing Meadows in New York. The mother of one also missed out of the Tokyo 2020 Olympics.
Serena's injury ended her 2021 season prematurely and this broke her heart.
"It was really sad, I had the most awesome outfit too. I put in extra effort to try to make it but it didn't work out," she talks of missing out at Flushing Meadows.
In a statement announcing her exit from the U. S Open, the 23-Gram Slam title winner said that it was under advisement by her doctors.
"After careful consideration and following the advice of my doctors and medical team, I have decided to withdraw from the US Open to allow my body to heal completely from a torn hamstring.
"New York is one of the most exciting cities in the world and one of my favorite places to play — I'll miss seeing the fans but will be cheering everyone on from afar. Thank you for your continued support and love. I'll see you soon."
Other Tennis Stars Who Missed U.S Open Due To Injury
Serena wasn't the only tennis star to miss out of the US Open. Venus Williams did not make it to Flushing Meadows due to injury.
In a statement, she said that it is "bad news" as she joins male defending champions, Raphael Nadal and Rodger Federer.
"Not the best news everyone. I am joining @serenawilliams @RafaelNadal and @rogerfederer on the injured list. It's still going to be a great US Open & many thanks to the @usta for the wild card. I was so looking forward to it, but it was not meant to be this year. I will be back!" she asserted.
The former world number one and two-time U.S Open champion said she has a leg injury pinning her down this summer.
"I, too, am unable to play the U.S. Open. It's super, super, super disappointing, having some issues with my leg all this summer and just couldn't work through it."
The U.S Open is Venus' favorite slam of the year having win seven Grand Slam titles in the past.
Serena Williams Impressive Tennis Stats
Serena has made a commendable performance thereby winning 23 Grand Slam Singles titles, more than any other woman or man during the open era.
She has an estimated net worth of $225 million, whereby she earns more than $8 million a year through her tennis career. The American player first learned tennis from her father on the public courts in Los Angeles. After thorough practice, she became a professional player in the year 1995, one year after her sister Venus.
On the contrary to many's predictions that the sister Venus would be the first Williams' sister to win a Grand Slam singles title, Serena accomplished the feat as the first one when she won the 1999 U.S. Open.
The sisters won gold medals in the double event at the 2000 Olympic Games in Sydney, Australia. After several years of inconsistent play, Serena asserted herself in 2002 and won the French Open, the U.S. Open, and Wimbledon, defeating Venus in the finals of each tournament."
Serena's inspirational career life is captured in several books, among them 'My Life: Queen of the Court'. Another book was released after her Australian Open Victory in 2009, titled the Line' among others.
Why Serena Williams is the Highest-Paid Olympian
Serena is one of the highest-paid Olympics players in the world. The celebrated tennis heiress has estimated earnings of$8 million per year, with an estimate of $225 million net worth.
Williams has drawn a total of US $93,634,967 as prize money from the WTA Tour, much more than any other female tennis player. Approximately, she earns more than$8 million a year through her tennis career. She also has an estimated net worth of $225 million."