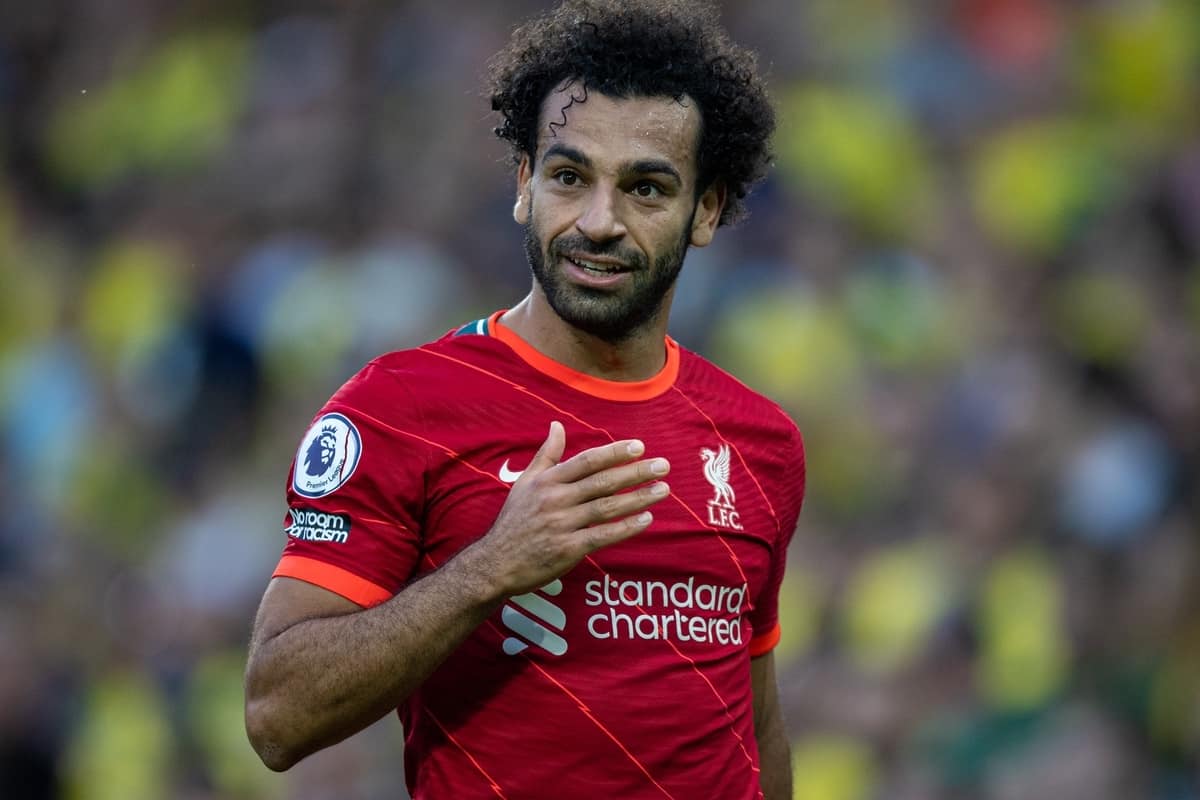 Liverpool's golden player Mohamed Salah Alias Mo Salah does not consider leaving Anfield for any other club.
He has one year left in his contract with the Jurgen Klopp-led Premier League club.
Sky Sports cites that Salah is set on playing for the Reds until his retirement but adds that this is solely dependent on the club.
"If you ask me, I would love to stay until the last day of my football career, but I can't say much about that – it's not in my hands.
"It depends on what the club want, not on me. At the moment I can't see myself ever playing against Liverpool. That would make me sad. It's hard, I don't want to talk about it, but it would make me really sad."
Mo Salah IS A Legend In Liverpool
Salah is already a legend in Liverpool. He is quickly becoming an all-time scorer for the club if Liverpool 5-0 win against Manchester United is anything to go by.
The Egyptian international scored three goals on Sunday – including a classic hat trick – against the bamboozled Red Devils.
This added to his 10 goals for the 2021/2022 season – excluding Sunday's three goals.
The 29-year-old is Liverpool's first talent to score successively in nine appearances.
Before the United clash at Old Trafford, Salah netted a goal for the Reds during a Champions League match with Atletico Madrid Tuesday.
Jurgen Klopp, the Liverpool coach says Salah is the world's best footballer and that the club's top spot is his.
However, the Egyptian says he is not so much into the debate that he is the worlds' best but; he is happy with his performance.
What Does Mo Salah Think About His Football Skill?
"It sounds great to me but I think it's always opinion. I can't say I'm the best player in the world – some people agree, some people not.
"I'm just happy about my performance at the moment, but I would always say it's opinion."
In his mind, he says, he sees himself as the best player of his time and it helps in building confidence.
Is It True That Barcelona Was Eyeing Signing Mo Salah?
Towards the end of September, it emerged that Barcelona was looking at signing Salah.
According to El Nacional, the Egyptian forward has proven his value for money at Anfield, unlike new signings.
It is against this backdrop that troubled Camp Nou is considering adding him to its camps after Lionel Messi's exit.
Barcelona hopes to sign Salah on the cheap next summer but with his love for London, he is not about to give in.
The Joan Laporta club is reeling in a financial crisis that has the club on its knees.
Real Madrid was also interested in the former AS Roma player who is Liverpool's magic wand but he showed no interest. At this point, any club eyeing the Egyptian international will pay an arm and a leg for him.
Mo Salah Pushing For New Salary At Liverpool
Salah is pushing for a new salary as his contract with Liverpool ends in 2023.
The Liverpool winger recently met his agent Ramy Abbas in London as talks with Liverpool on increasing his salary continue.
Salah's reputation is growing bigger by the day thanks to his skill and world-class scores.
HOW MUCH IS MO SALAH DEMANDING IN NEW SALARY?
Salah is looking at €592,000 every month in his yet-to-be new contract. He currently takes home €237,000 per – equivalent to $12 million every season.
However, Liverpool feels this is too much. And if they paid this amount, Salah will become the Reds' top-earning player.
Should Abas manage to strike the deal with Liverpool in the new contract, Salah will also join the highest played players in Premier League.
DOES MOHAMED SALAH DESERVE THIS NEW SALARY?
It is a dicey subject and deeply divisive but Salah deserves higher pay than he currently earns.
The Egyptian forward's presence in Liverpool can be felt since 2018 when he joined from Roma.
He was signed alongside Virgil Va Dijk. The duo brought charm and purposes to Liverpool that the club won the Premier League.
The Reds took the EPL title for the 2019/2020 season – the first time in 30 years. Further, Liverpool won the 2018/2019 Champions League.