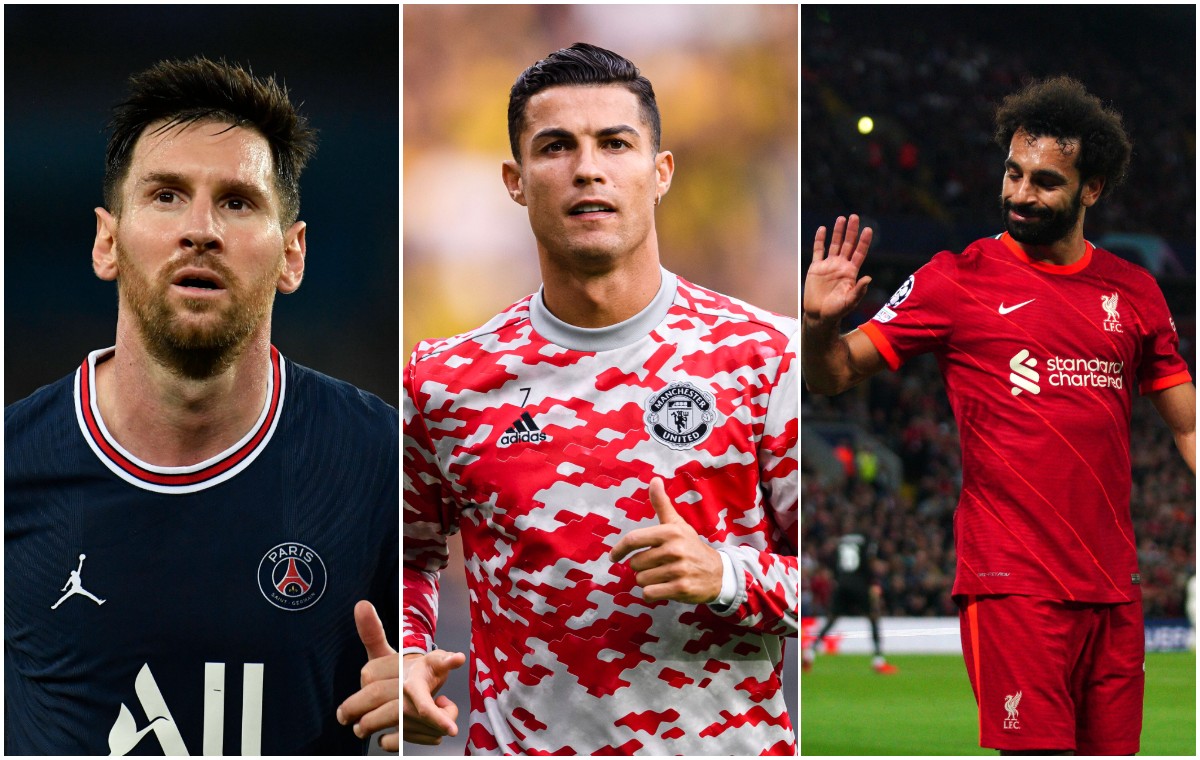 Mohamed salah, Ronaldo and Lionel Messi have all been named on the 30-man shortlist for the 2021 Ballon d'Or.
The Egyptian is one of the best players in the European League football this season. Salah has been breaking records recently which makes him one of the best players in the English top flight.
However, last seasons Liverpool poor start to the Premier League could probably hinder his chances of winning this prestigious award.
Meanwhile Ronaldo and Messi who have won this award for fifth and sixth times respectively are most seen as the biggest favorites for this year's award.
Last year this individual coveted prize was cancelled due to the global pandemic that brought to a halt many sporting activities across the globe.
It was the first time since its founding in 1956, that football's most coveted individual prize was not handed out.
In 2019, Liverpool's defender Virgil van Dijk was runners-up to winner Lionel Messi while Mohamed Salah and Sadio Mane were also in the top five.
Lionel Messi remains the highest favorite to win this years individual prize for a record seventh time despite not winning the La Liga with Barcelona and only reaching the round of 16 in the Champions League while Man United's super star Ronaldo is in the chasing pack.
Although neither player won their respective domestic leagues or the Champions League last season, they did have strong individual campaigns.
For example, Ronaldo still managed to pick up 36 goals and four assists in 44 games in all competitions, despite Juventus and Portugal's relative failure to match expectations in their respective tournaments.
Meanwhile, Messi managed to bag 38 goals and 14 assists in 47 games last season as his Barcelona side managed little more than a Spanish Cup in domestic tournaments. However, the 34-year-old star did claim his first international title with Argentina at the Copa America.
After taking a one-year hiatus due to the global pandemic, the famous football award is back and will be presented to the best player in the world later this year.
However, before that can happen, the committee has made up a shortlist of the 30 men who are up for the award this year. And it includes a number of household names, as well as very few surprises.
Jorginho has also been nominated after helping his club and country clinch the Champions League and Euro 2020 titles.
The shortlist for the 2021 Ballon d'Or
| Name | Club |
| --- | --- |
| Cesar Azpilicueta | Chelsea |
| Nicolo Barella | Inter |
| Karim Benzema | Real Madrid |
| Leonardo Bonucci | Juventus |
| Kevin De Bruyne | Man City |
| Giorgio Chiellini | Juventus |
| Cristiano Ronaldo | Juventus / Man Utd |
| Ruben Dias | Man City |
| Gianluigi Donnarumma | Milan / PSG |
| Bruno Fernandes | Man Utd |
| Phil Foden | Man City |
| Erling Haaland | Dortmund |
| Jorginho | Chelsea |
| Harry Kane | Tottenham |
| N'Golo Kante | Chelsea |
| Simon Kjaer | Milan |
| Robert Lewandowski | Bayern Munich |
| Romelu Lukaku | Inter / Chelsea |
| Riyad Mahrez | Man City |
| Lautaro Martinez | Inter |
| Kylian Mbappe | PSG |
| Lionel Messi | Barcelona / PSG |
| Luka Modric | Real Madrid |
| Gerard Moreno | Villarreal |
| Mason Mount | Chelsea |
| Neymar | PSG |
| Pedri | Barcelona |
| Mohamed Salah | Liverpool |
| Raheem Sterling | Man City |
| Luis Suarez | Atletico Madrid |