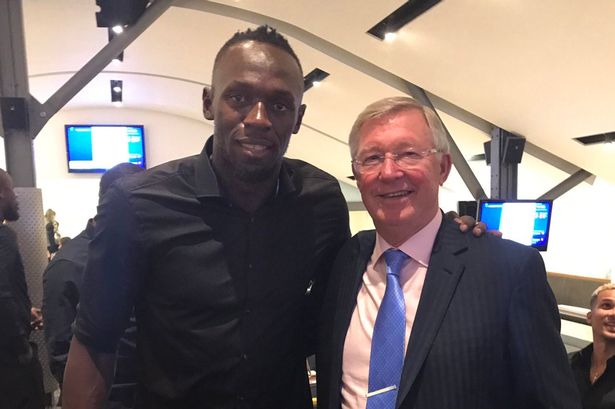 Jamaican Olympic star Usain Bolt on Wednesday has a congratulatory message for former Manchester United manager Sir Alex Ferguson.
Bolt met the retired manager at Old Trafford where the Red Devils battle with Villareal in the Champions League Wednesday night.
The Jamaican sprinting legend was among thousands of United fans keenly following the club play their second Champions League group stage match.
It was all tense until the 95
th
minute when Cristiano Ronaldo tactically and impressively scored the winning goal.
Ronaldo secured three points for the Red Devils in the second Champions League match.
It was a huge victory following United's 2-1 loss to Young Boys in their first Champions League match.
Soon after Ronaldo's epic score, Bolt said he reached out to Ferguson thanking him for bringing the legend back to United after 12 years.
"He [Ronaldo] helped to build the club and it was wonderful when he was here, the energy. So I'm happy he's back," Bolt told MEN.
"I just saw Alex Ferguson inside and I thanked him for bringing Cristiano back, so I'm happy about it."
This was the first time he was at Old Trafford in a long time despite being an avid United fan.
"I'm happy to be here, I haven't been back to Old Trafford in a while, so I'm just happy to be here in the stands with everybody to watch the game."
Ronaldo is a big plus to United. His return after 12 years struck the whole world.
The Portugal captain has scored four goals for the Red Devils since he joined the club in August.
His return to Old Trafford from Juventus had a lot to do with Ferguson. Ronaldo revealed it all in a phone call with the legendary Manchester United boss.
He would later post a hearty message on social media lauding Ferguson for it all.
During an interview with MUUFCTV, he said Ferguson was instrumental in his resigning with Man United.
"As everybody knows, since I signed for Manchester [United] at 18, Sir Alex Ferguson was the key,' he told the club's official website.
"I remember when we played against Manchester when I was at Sporting Lisbon. For me, Sir Alex Ferguson is like a father in football for me.
"He helped me a lot, he taught me many things, and in my opinion of course he had a big role because the relationship that we had, we keep in touch all the time, and he's an unbelievable person.'