Why Takehiro Tomiyasu is a game-changing signing for the Gunners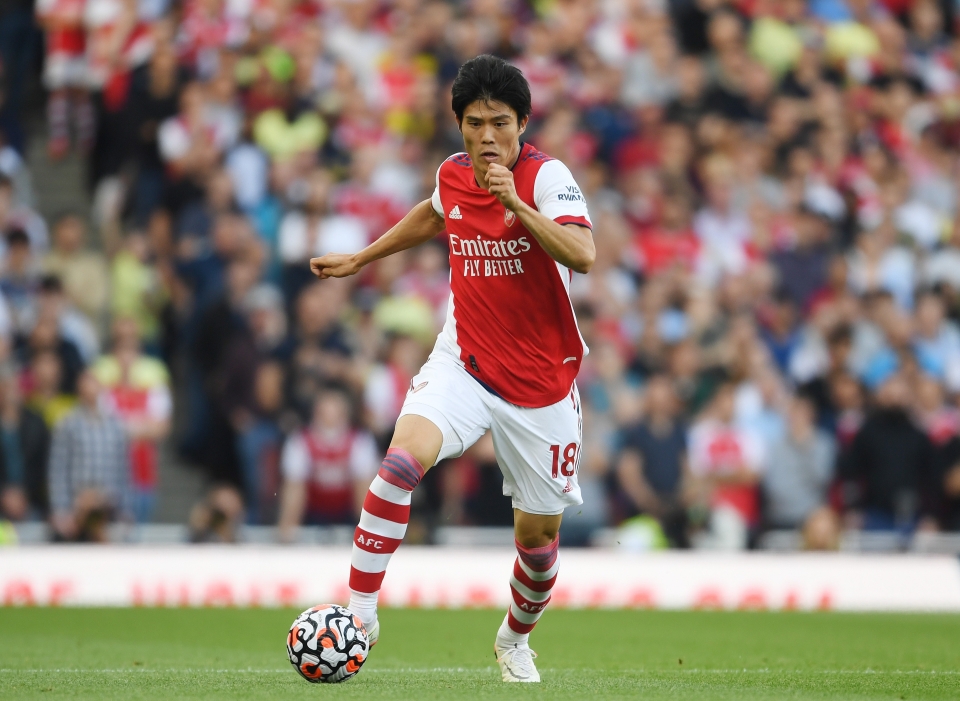 Arsenal signed Takehiro Tomiyasu in the August summer transfer, and the Japanese with only three appearance for the Club he has shown he has so much to offer for the English club.
When the news broke of the Japanese signing  for Arsenal, many fans were left with questions than answers, Tomiyasu was barely known by spectators outside Serie A.
Tottenham Hotspurs were also linked with the Japanese but it was too late, he ended signing for their rivals, not just from thin air, earlier reports suggested that intensive scouting was done to secure the defender with proper plans laid out.
Similarly, Arsenal reinforcing their backline even after securing Ben White earlier this summer was a step in the right direction after losing Hector Bellerin in the last minute.
The signing of Takehiro Tomiyasu is as important to Arsenal as that of Cristiano Ronaldo to Manchester United not to compare them but the impact the two have had so far in their respective clubs.
These Reasons below justify why the Japanese can be a game charger to Arsenals fortunes.
1. A defensive full-back offering more freedom upfront
In addition to advancing forward for set-piece situations, the youngster is quick to regain his position. His ability to quickly cover spaces will come handy for Arsenal's struggles to find Nicolas Pepe's freedom upfront.
Prior to this, Arsenal worked with Hector Bellerin, Cedric Soares and Callum Chambers right-backs who weren't prolific defending in transitions.
However, with a profile that is a contemporary defender and can cover spaces for an advanced player, can help Pepe thrive on the advanced wide position.
This will also mean that Arteta will no longer have to deploy Ainsley Maitland-Niles as a makeshift right-back.
While it might take a while for Arsenal to fully figure out this conundrum, Tomiyasu's presence will unlock that dimension for Arteta.
Especially, considering that the Gunners like to line-up in a five when the ball is in an advanced position, this freedom can come handy.
Finally, Arsenal might get what they're looking for from Pepe and the new signing will have a crucial role if that happens.
2. A professional young talent
One of the first things that Arsenal players observed of Takehiro Tomiyasu is his tremendous professional approach on the pitch.
Arteta has also mentioned about the new signing's "positive" attitude during training. At such a young age, Arsenal might have secured a player that can be at the club for at least a decade.
Another intangible advantage he brings is the room for improvement. Despite looking technically sound, the 22-year-old can still develop a lot to be a finished product.
A flexible and versatile player able to be compatible in defense, Tomiyasu will get minutes to grow as an individual as well as a team player. Arsenal under Edu's reign have emphasized on young signings and this move perfectly fits their philosophy.
Hence, Takehiro Tomiyasu fits in well, given his age, potential and on-field commitment. The first three fixtures have laid the foundation and things should only go the right way from here for the Japanese international.
3. A press-resistant ball-winning player
Anyone who saw Takehiro Tomiyasu play against Spurs would agree with his ability to be strong on the ball.
This is primarily because his left foot is not significantly weak in comparison to his preferred right. This allows him to quickly switch and release the ball.
This capability has seen him earn praise as a press-resistant defender early on in his career. This ability will come handy if Arsenal require him to start as a right-sided Centre-back.
Another factor that makes him an ideal defender in Arteta's system is his 1v1 record. As a pacey player who possesses sound positional sense, he is rarely dribbled past in such situations.
The stats speak in his favor – his record against dribblers is better than 99% of full-backs in Europe's elite leagues.
Takehiro Tomiyasu is extremely quick for a 6'2″ player and hence, can make good recovery runs. This allows him to keep up even if he struggles the first time around. His defensive stats on the ground rank amongst the top 10% of defenders in Europe's top five leagues.
4. Familiarity with Arteta's system
Another major reason behind Tomiyasu's early impact is his familiarity with the system that Mikel Arteta plays.
Bologna adopt an asymmetrical system, resembling Arsenal's style of keeping a back four while defending and shifting into a back three in possession. In the first three matches, Takehiro Tomiyasu did not have much trouble forming the three, alongside Ben White and Gabriel.
In addition, there is a peculiar role that the Japan international will be embracing. Arsenal rely on their left-back Kieran Tierney to make overlapping runs going forward.
That leaves few defensive duties for him to contribute to. Majority of Tierney's touches come in the higher part of the attacking third.
That should be enough evidence to understand what he does and how he does it. Hence, this leaves Tomiyasu to come inside when his side are in possession.
In his first three matches, most of the former Bologna defender's touches came around the lower part of the middle third and the higher part of the defensive third.
Not only do these observations serve as a blueprint to his plug-and-play adaptability, but also of the promise he carries.
In addition, Arsenal try to maintain a high line with a 2-3-5 in possession structure. In the last three matches with Takehiro Tomiyasu in the side, the three consisted of him joining the two midfielders.
His tactical awareness, in addition to his pace and positioning perfectly suited Arteta's needs.
After the likes of Per Mertesacker and Laurent Koscielny, Arsenal have not had a viable aerial defender to grace their backline. However, their quest might have come to an end with the arrival of Takehiro Tomiyasu.
His impactful presence in the air was apparent in the clashes against Norwich City, Burnley and Tottenham Hotspur. Infact, Tomiyasu won 10 out of the 11 aerial duels he contested in his first two matches for the Gunners. This should be enough to count him in as an efficient player in the air.