Cristiano Ronaldo is now a Manchester player after a decade, he links up with fellow countrymen Bruno Fernandes and Diogo Dalot who is yet to know his future at United, He comes back after winning massively in both Spain and Italy.
In a wild transfer market that has seen twist of events Ronald chose united over city after Reports emerged that former Manchester United Coach Ferguson ringed him, in the morning, before Manchester United got in touch, since yesterday reports had it that Ronaldo was heading for United rivals City something that didn't go well with fanss.
But with his historic return to Old Trafford how has Ronaldo fared at Juventus?
Cristiano Ronaldo's three seasons at Juventus have seen the Portuguese star score plenty of goals, and continue to defy time as he dominates defenses at the age of 36, showing few signs of slowing down.
As much as Ronaldo has continued to score goals and wow fans, one thing he has yet to do is stamp his move to Juventus as an undeniable success. Of course, 81 Serie A goals in three seasons is a figure almost any player would give anything or, Ronaldo arrived in Turin with loftier goals and greater expectations.
Ronaldo's Serie A statistics speaks for themselves out of this 81 goals he scored 58 non penalty goals and provided 16 on his record for Juventus.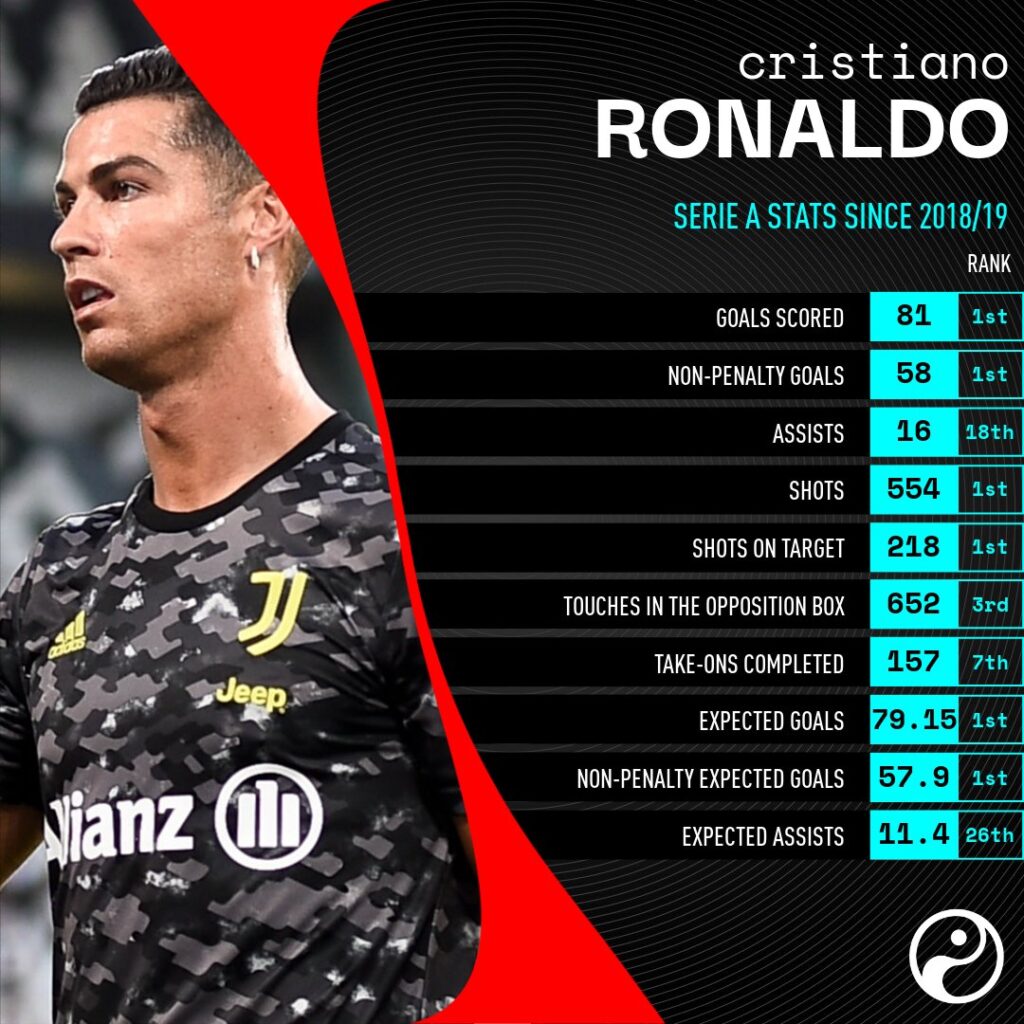 Chief among them was the expectation that Ronaldo could end Juventus' drought in the UEFA Champions League.
Fresh off three consecutive Champions League triumphs with Real Madrid, Ronaldo joined the Italian giants in hopes of helping them do what they haven't achieved since 1996 and lift Europe's elusive trophy for the first time in 23 years.
in the same season that Juve were eliminated by Ajax at the UEFA knockout stages, Juventus still went on to lift its eighth consecutive Scudetto, but ultimately the season left a lot to be desired. After all, the former Real Madrid man wasn't brought in to help them maintain their domestic dominance.
Ronaldo put in his lowest-scoring season in over fifteen years, netting 21 goals in 30 Serie A appearances in the first season.
Ronaldo was named Serie A's Most Valuable Player at the end of his debut campaign in Italy, after netting 21 goals during Juve's Scudetto success, while he also dragged the Bianconeri to the quarter-finals of the Champions League with a sensational hat-trick in the second leg of the epic last-16 comeback against Atletico Madrid, you all remember that packed stadium.
The 36-year-old began the second season in poor form, scoring a mere four goals in 10 appearances. For the first time since joining Juve, the five-time Ballon d'Or winner was subbed off in consecutive games against Lokomotiv Moscow and Milan.
Reports later emerged that Ronaldo was nursing an injury to his hamstring. 
Just as many began to doubt Ronaldo, the Portuguese international turned it up. His return from December's international break proved to be a turning point in his Juventus tenure. After scoring his fifth goal of the season against Sassuolo, the 36-year-old went on a tear scoring goals in 11 consecutive league encounters, equaling Gabriel Batistuta's record in the process. 
The former Real Madrid man in his second season spell with Juventus equaled 21 goals like his previous first season at Juventus but this time in nine fewer appearances.
Beyond his goal-scoring exploits, the spring in Ronaldo's step appeared to have finally returned. Factor in his blossoming partnership with Paulo Dybala and the Juventus front line this time was looking as dangerous as ever. 
Ronaldo's time at Juventus have winded up now joining Man United to prove a point at his age. Ronaldo's stint in Spain will ultimately be remembered for his European triumphs, but it's easy to forget that it took Ronaldo four attempts in Madrid before finally being crowned European champions, including one Round of 16 exit.
Time may not be on his side as it was the case in 2009, but if Ronaldo's career has shown anything, it's that you simply cannot count him out.