Eliud Kipchoge cemented his status as the greatest marathoner of all time, running a commanding race to successfully defend his Olympic Marathon title in a time of 2:08:38. The World record holder became only the third person in marathon history to win back to back Olympic titles.
Only Abebe Bikila of Ethiopia (1960, 1964) and German Waldemar Cierpinski (1976, 1980) have achieved the honorable feat. Kipchoge also made another piece of history, his winning gap of 1:20 counting as the biggest victory margin in an Olympic marathon since Frank Shorter's win in 1972.
Kenya's Lawrence Cherono lost a sprint finish to come home fourth while the third Kenyan in the race, Amos Kipruto, pulled out after 36km.
Netherlands' Abdi Negeeye as well as his training partner Bashir Abdi worked in song to box Cherono out of the medals in the final 20m. Negeeye timed 2:09:58 for Silver while Bashir timed 2:10:00 for bronze. Cherono was fourth in 2:10:02.
Kipchoge was comfortable all race through and not even a faint sign of struggle was visible on his face. After the struggle at last year's London Marathon, Kipchoge was out to show that he is still the biggest and most successful marathoner in the race.
Pre-event, he had clearly stated he wanted to leave a legacy in the spot and winning his second Olympic title would have placed him high up the ranks of world marathon history.
From the start, he was in control. The World Record holder stuck to the front from the start.
Several athletes fell off in the first 25km, Ethiopia's Shura Kitata coming off after just 8.5km, Uganda's Stephen Kiprotich going out after 11km while another Ethiopian, Sisay Lemma was out after 23km.
Upfront, it was Kipchoge leading a healthy pack of athletes, still perched together. He constantly signalled Cherono and Kipruto to stick in tow as he controlled the pace and ensured his mates were constantly flying in his wings.
At the halfway mark, South African Stephen Mokoka, who would later drop off the race took the leading group of almost 20 athletes through in a time of 1:05:13 with Kipchoge second and Brazilian Daniel Do Nascimento at third place.
The Brazilian had all race through stuck next to Kipchoge and the 23 year old enjoyed a fun moment, probably excited to be in the shadow of greatness with a little fist bump and a smile as he looked at Kipchoge on his side mirror with gleeful eyes.
But, he would later drop off, Kipchoge's pace proving too much to bear.
At the 30km mark, Kipchoge made his intentions known, perhaps to all the doubters that had questioned his form heading into the Olympics. He went through in 1:32:31 and covered the next five kilometres in a sizzling split of 14:28.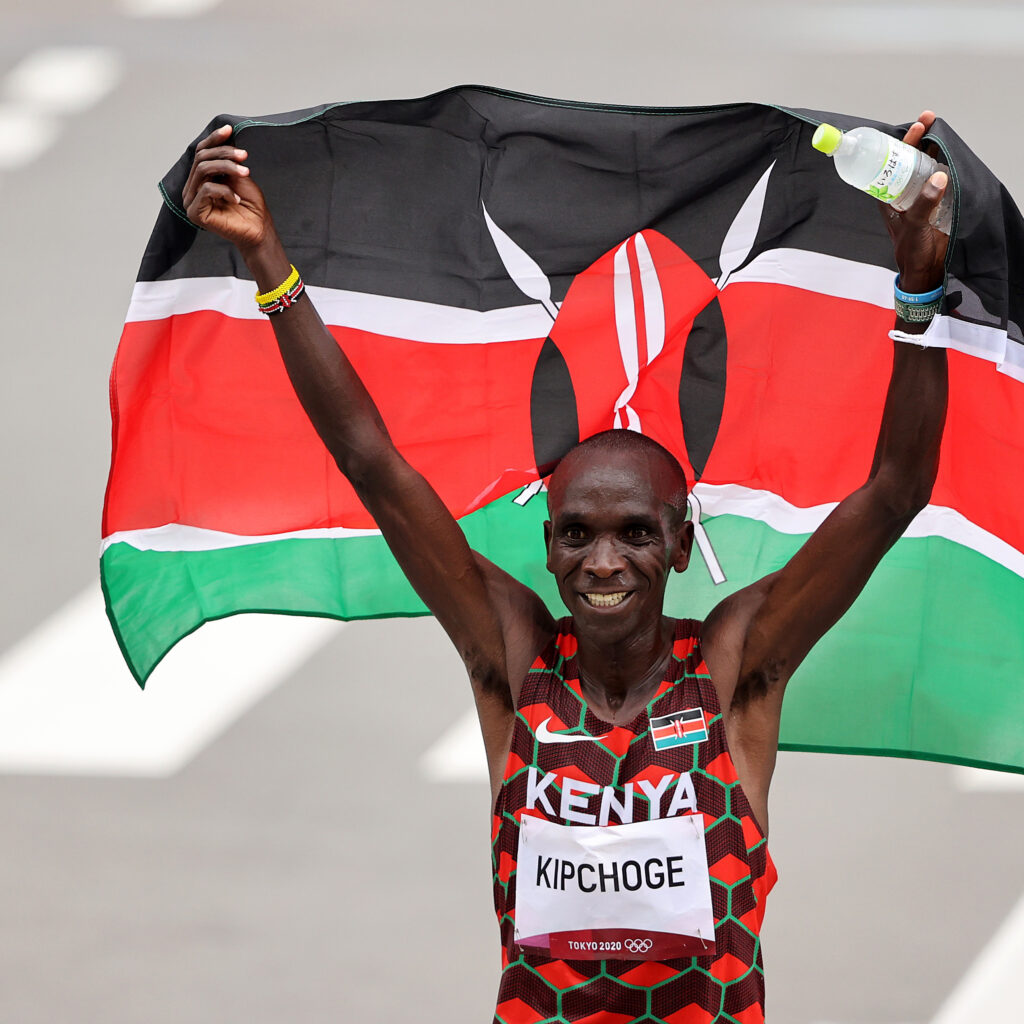 He was now out and on his own, leaving Cherono and KIprutto battling with the other group of three. Kipruto would go off 6km later and it was now Cherono, the Boston and Chicago Marathon champion from 2019, left to battle.
Kipchoge timed 2:01:55 at the 40km mark and there was daylight between him and the chasing pack as he comfortably zoomed off to victory.