Kenya's Emmanuel Korir on Wednesday won the first Gold medal for the country in the 800m race clocking 1:45:06 in the ongoing Tokyo 2020 Olympics in Japan.
Ferguson Rotich finished in the second position clocking 1:45:23 winning the Silver medal while the Bronze medal was won by Poland's Patryk Dobek who finished in the third position at 1:45.39.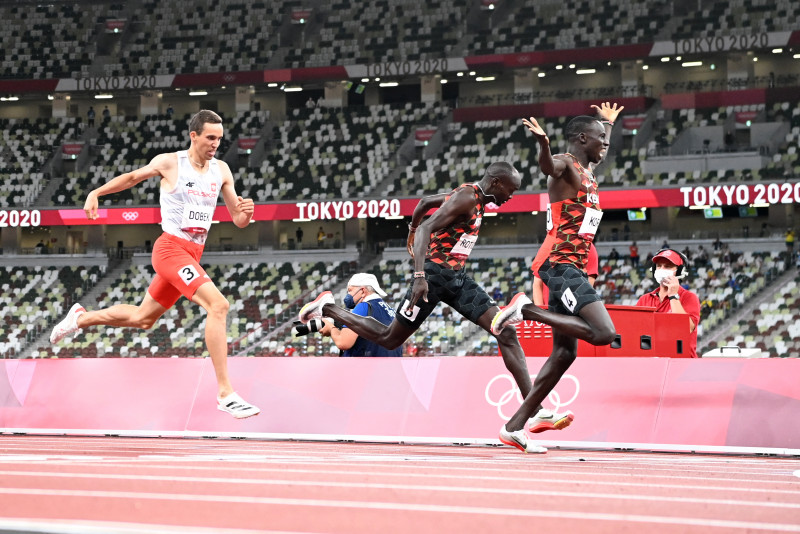 He won his first-round heat last Friday, then cruised to a second-place finish in his semifinal heat, He made his big move with 250 meters to go, moving into first place on the curve with about 200 meters left.
Kenya's Gold winner becomes the third UTEP athlete to ever win a gold medal in track & field events joining Bob Beamon who won in 1968, long jump and Ria Stalman 1984, discus as the only Miners to ever achieve the lofty status of Olympic gold.
He set the indoor world record for 600 m As of 22 July 2018 he is ranked as the sixth fastest athlete over 800 m of all time, with a personal best of 1:42.05.
Rudisha failed to retain his title after persistent injuries that opened the way for Rotich to set a new record.
Kenya has not lost in the men's 800m final in 4 consecutive Olympic games with Wilfred Bungei (2008) and David Rudisha (2012 and 2016) having won gold in the last three editions of Beijing, London and Rio respectively.
The closing ceremony for the Tokyo 2020 Olympics will take place on Sunday 8 August after 339 gold medals have been awarded.