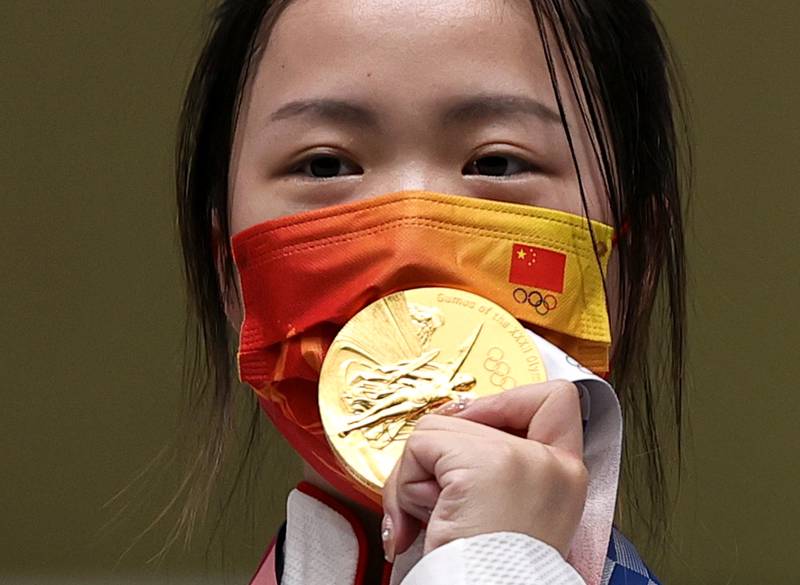 Yang Qian,the Chineese shooter  won herself the first gold medal of the Tokyo Olympics on Saturday in the women's 10m air rifle title ahead of the Russian Anastasiia and Switzerland's Nina Christen in sixth and eighth rounds respectively.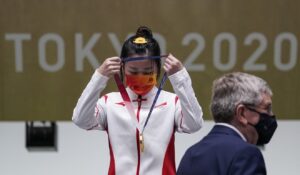 The 21 year old set  an Olympic record score of 251.8 and  was awarded her Gold medal by the International Olympics Committee president Thomas Bach.
Speaking after receiving the medal she expressed her happiness for the achievement.
"I am extremely proud and happy to win this gold,"
The Olympian also added that she was nervous during the game since the competition was tight.
"I was really nervous. The competition was really tight, but I'm so happy that I could win," Said Qian.
Despite, she said she had been trained and moulded to work under pressure by the coaches and that created a nerve-wracking atmosphere.
"We did train how to perform under pressure. The coaches would actually create a nerve-wracking atmosphere and try to pressure us," she added.
The Silver Medal was won by  a Russian shooter Anastasiia Galashina who finished in the second position setting an olympic record of 251.1 in the final round while The Bronze medal was awarded to Switzerland's Nina Christen who came in the third position.
Olympics Awards
An Olympic medal is always awarded to successful competitors at one of the games. There are three classes of medal: Gold, awarded to the winner; Silver, awarded to the runner-up; and Bronze, awarded to the third place. The granting of award is laid out in detail in the Olympic protocols.
Medal designs have varied considerably since the Games in 1896, particularly in the size of the medals for the Summer Olympic Games. The design selected for the 1928 games remained for many years, until its replacement at the 2004 Games in Athens as the result of controversy surrounding the use of the Roman colloseans rather than a building representing Greek roots. The medals of the Winter Olympic games never had a common design, but regularly feature snowflakes and the event where the medal has been won.
In addition to generally supporting their Olympic athletes, some countries provide sums of money and gifts to medal winners, depending on the classes and number of medals won.
Total medals won are used to rank competitor nations in medal tables, these may be compiled for a specific discipline, for a particular Games. These totals always total event placements rather tory in a team event (such as relay race) equates to a single gold for such rankings even though each team member would receive a physical medal.