Julius Ssekitoleko, A Ugandan Olympian who disappeared last week on Friday from the Camp has been found.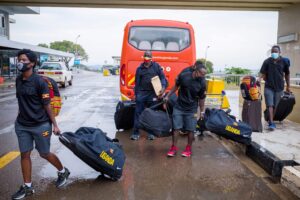 The weightlifter left a note ahead of his disappearance claiming  that life in Uganda was too hard and he wanted to stay in Japan.
He is said to have purchased a train ticket to Nagoya on Friday morning and travelled with only his mobile phone as his passport was kept by the Ugandan team despite the Athletes being under strict restrictions while in Japan and have to stay at either their hotel, Olympic venues or training grounds.
According to a statement from the Uganda Olympic Committee Ssekitoleko was to return to Uganda this week after missing out on a place at the Olympics after he failed to show for a Covid-19 test on Friday as informed by the International Weightlifting Federation on 5 July 2021
"It was anticipated that he would qualify for the games. However he did not make the quota as informed by the International Weightlifting Federation on 5 July 2021.
"He, together with his coach, were due to return to Uganda on 20 July 2021″.
However the Committee was very clear and briefed the athletes earlier about immigration regulations and they were not supposed to move in and out the camp.
"We, during our regular team briefings both in Uganda and in Japan, emphasized inter alia the need to respect the immigration regulations of Japan and not opt to leave the camp without authorisation".
According to Katsunobu Kato, the chief cabinet secretary to Prime Minister Yoshihide Suga said police launched an "all-out effort" to find the athlete—and, on Tuesday afternoon, he was found in the Mie Prefecture.
An Osaka police spokesperson said in a statement that discussions are ongoing about whether he will return to his team hotel.
This was just but another setback for Uganda after two unnamed members of the team tested positive for Covid-19 after arriving in Japan.
More to follow…..