Ahmed "Zizo" El-Sayed handed Egyptian powerhouse Zamalek a narrow win over Maqassa in a seventh minute spot-kick giving them an advantage of 18 points clear at the top after 27 games played.
Zamalek have 61 points in 27 games played followed by Masry in the second position, who now have 43 points, while defending champions Ahly closes the top three position with 41 points, in 19 games.
Zamalek got off to a blistering start as Zizo scored the opener after just seven minutes from the penalty spot after a handball by defender Essam Sobhi inside the box.
Maqassa quickly regained their composure and pressed forward to get the equalizer. They gained possession of the ball but their attacking trio Shimelis Bekele, Paulin Voavy and Bassem Morsi could barely threaten keeper Mahmoud "Gennesh" Abdel-Rehim.
Zamalek's final third posed great danger to Maqassa defense whenever they split their defense on counter attacks. Bencharki came close to doubling Zamalek's lead as he latched onto a long ball on the left side of the area to cut inside onto his right foot, but his powerful shot was well parried by keeper Mahmoud Hamdi.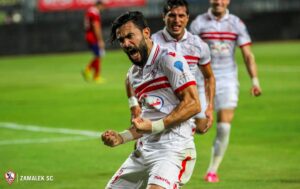 Just before the break, Tunisian striker Seifeddine Jaziri intercepted the ball behind the defense, but his pass went begging in front of the goal.
The sides were evenly matched in the opening minutes of the second half.  Zizo latched onto a long ball from Hamza Mathlouthi, but his shot was blocked by the keeper. At the other end, Bekele intercepted the ball behind the defense,in an interesting manner but his poor attempt went next to the post.
ALSO READ: Kenneth Kaunda: A Tribute To A Football Loving President
The hosts kept on trying but their only attempts on the goal came through long shots from Abdallah Magdi and Said El-Wensh that went wide.
Zamalek will miss midfielder Emam Ashour and forward Youssef Obama against Ghazl El-Mahalla next week due to automatic suspension.