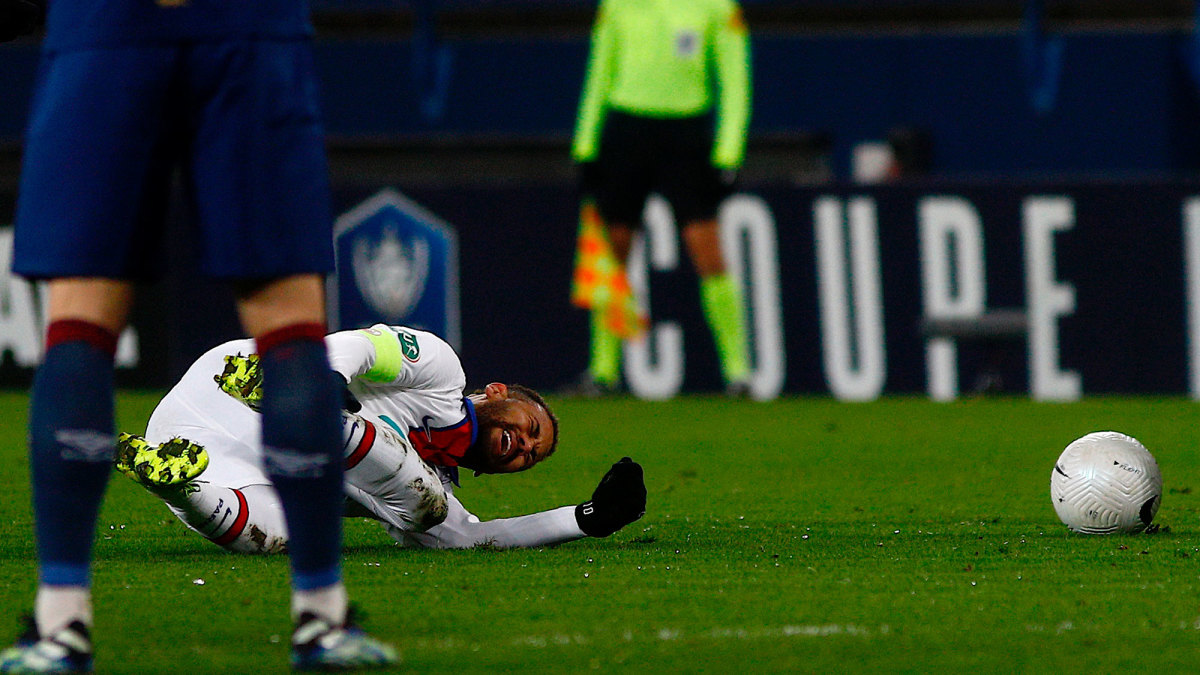 The newly appointed Paris Saint-Germain manager Mauricio Pochettino is worried and terrified of the latest injury news that has struck Brazilian forward Neymar ahead of their Champions league round of 16 leg clash against Spanish Giant Barcelona.
Neymar was injured during PSG's encounter against Caen in recent coupe de France Round of 64 fixture, Nevertheless Mauricio Pochettino remains optimistic that the Brazilian star will be back in action soonest possible.
Neymar was diagnosed with adductor muscle injury few minutes after heavy behind challenge from Caen central defender Alexis Beka Beka nine minutes into the second half.
Neymar had clutched his left knee as he laid down on the ground and was replaced moments later after trying to keep on playing.
This is the saddest times for PSG as they prepare to play Barcelona, Neymar's former club next week with already Pochettino sweating on the fitness winger Angel Di Maria who was injured on his thigh last Sunday against Marseille.
Currently Neymar is expected to miss around four weeks of action due to the injury but he could possibly return sooner pending his recovery process.
This will forcibly make Pochettino move forward without the Brazilian star for the next weeks action against Barcelona.
Speaking to a Spanish based outlet Onda Cero's "El Transistor", PSG manager Mauricio Pochettino said that the Brazilian was so much frustrated after the injury as he was looking forward to face his Immediate club for the first time since leaving the Catalans.
"Neymar is very sad, he was very excited to return to Barcelona, ​​to play against Barça, he likes this competition very much," Pochettino said.
"It is a great loss for us. We hope to have Neymar for the second leg.
Pochettino also went ahead to say that he had planned to substitute the Brazilian striker just before the injury.
"Just before Neymar's injury, we were going to make the change," Pochettino said. "Because of his play, Neymar often gets tackled too much, maybe the referees should apply common sense and protect a little more. Neymar enjoys the ball at his feet, he is like that playing football. He is like that in training too.
Taking to his Instagram page Neymar expressed his frustrations about the injury.
In the post seen Neymar wrote on Thursday; "The sadness is great, the pain is immense and the crying is constant. "Once again, I will stop for a while doing what I love the most in life, which is playing football. Sometimes I feel uncomfortable because of my style of play, because I dribble and they constantly hit me.
"I don't know if the problem is me or what I do on the field. It saddens me a lot. It saddens me a lot to hear from a player, coach, commentator or whoever the hell it is, that 'you really have to hit him', 'he falls', 'he cries', 'a child', 'spoiled' etc.
"It honestly saddens me and I don't even know how much I can bear it. I just want to be happy playing football. NOTHING ELSE."