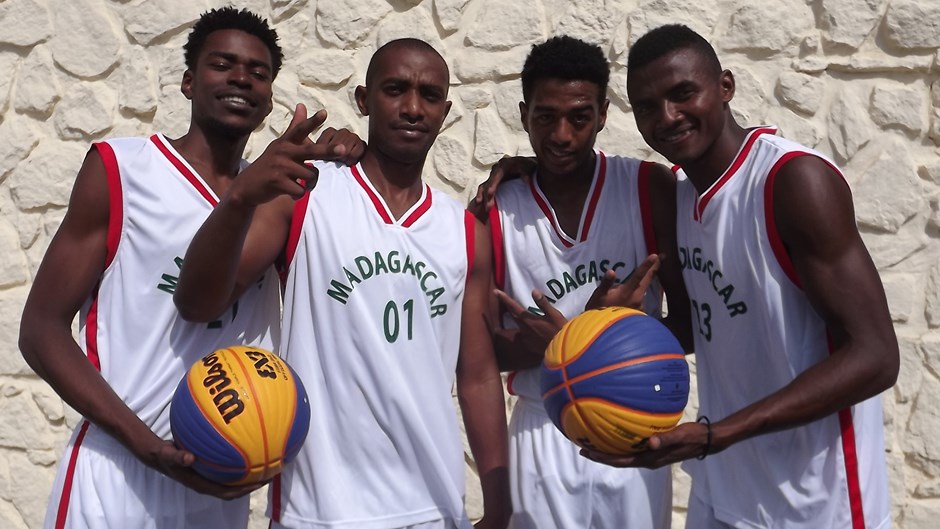 Madagascar is not a country often associated with the powerhouses of African basketball, but that may just be about to change.
The country located 400 kilometres off the Southeast coast of Africa has organised several FIBA Africa Championships over the past few years, and fans regularly showed up in big numbers. More so, when their heroes take to the floor.
After hosting the International Basketball Federation (Fiba) Women's AfroBasket 2009, Madagascar organised Fiba Africa's flagship tournament AfroBasket two years later, which served as a qualifier for African teams for the 2012 London Olympics.
The Fiba Under-16 Africa Championship 2013 took place in the island, and two years later the Malagasy hosted the Fiba Under-16 Women's Africa Championship. Madagascar was also home to the Group D of the Basketball Africa League Qualifiers.
Ranked 14 thin Africa (94th in the world), Madagascar is far from being a powerhouse on the continent, but  Fabrice Mandimbison – a policeman who plays for local side Gendarmerie Nationale Basketball Club (GNBC) – is trying to change the narrative.
As recently as February this year, Madagascar qualified for the FIBA AfroBasket 2021 Qualifiers thanks to a 4-0 record in a regional pre-qualifier against hosts Zimbabwe and Zambia.
A few months earlier, in December 2019, Mandimbison – commonly known as Fabrice – and his GNBC took African basketball by a storm as they travelled to Kigali, Rwanda, to secure one of the three tickets on offer for the Final Round of the Basketball Africa League (BAL).
In an interview with Fiba.basketball, Fabrice explained why he and his peers are on a mission.
"Before the BAL Qualifiers, many people made fun of our team. Even some of our compatriots were pessimistic saying that we would not go far, and we would be there to make up numbers. Those kinds of comments fuelled my pride and that of my teammates for that matter. It motivated me to play even better in the BAL Qualifiers."
Playing in front of a passionate crowd in the Kigali Arena, Fabrice felt he belonged in that kind of atmosphere as he finished with averages of 17 points, seven rebounds and almost three assists per game.
GNBC, Ferroviario de Maputo and hosts Patriots Basketball advanced to the highly-anticipated BAL Final Round.
With their BAL ticket in the bag, Fabrice and Co are switching their focus to Group A of the Fiba AfroBasket 2021 Qualifiers, which includes reigning Africa champions Tunisia, the Central African Republic and the Democratic Republic of Congo.
"If I am selected to play for Madagascar in the [FIBA] AfroBasket Qualifiers, that will be an honour given that you are among the twelve best players in the country, who are picked from thousands of players in our country," said the 29-year-old shooting guard.
Any basketball fan knows the responsibility of wearing a No. 23 jersey in basketball.
From the iconic 23 Chicago Bulls jersey  that made Michael Jordan a legend worldwide to LeBron James' 23 Los Lakers jersey, Fabrice says there is a reason as to why wears the iconic number:
"I'm a big fan of LeBron James, it was when I saw him play that I developed my passion for basketball. Being a huge fan of big LeBron James, who is a source of great inspiration to me, I also want to inspire the young Malagasy as he did to me. Then, I dream of meeting him and seeing him play for life.
"In addition to that, the number 23 gives me luck because since I started wearing it in 2016, we have had several national awards," said the 1.93m guard.
Fabrice had just turned 18 when Madagascar hosted the FIBA AfroBasket 2011, which crowned Tunisia as African champions, and although he was pre-selected to represent the islanders in the tournament, he could only watch his country finish 1 to 4 from the TV.
"I actually was pre-selected for the [FIBA] AfroBasket 2011 but I could not join the national team because I was in the middle of training to become a policeman," he recalled.
Madagascar never featured in the tournament since.
"It's a special occasion," says Fabrice. "We will try to qualify for the Final Round."
Madagascar will need to finish in the top three places of their group to advance to the FIBA AfroBasket 2021 in Kigali, Rwanda.
Fabrice continued: "I want to help make history in Madagascar basketball, and that is to achieve the best possible result in the biggest African basketball competition. I will do everything I can for the best possible results during the BAL with my GNBC club and in the [FIBA] AfroBasket with the national team. On the other hand, it's also a personal goal since I missed out the 2011 African Championship."
In partnership with ANA and Sports Leo