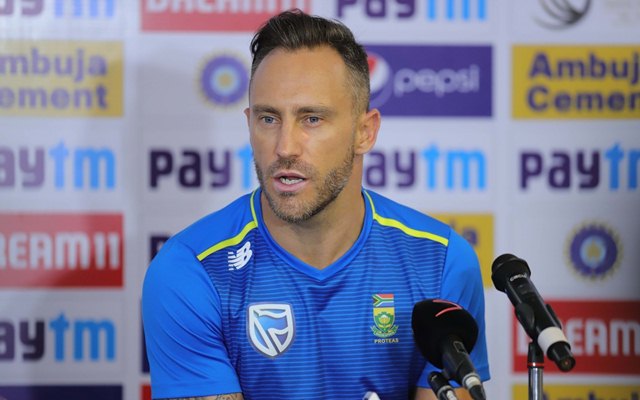 After a tough last few months, as both leader of his team and a Test batsman, South Africa captain Faf du Plessis agreed that the fourth and final Test against England at the Wanderers might be his last on home soil.
South Africa have lost seven of their last eight Tests, four of them at home, and have not won a series since January last year. Those issues have been compounded by Du Plessis' own Test form, which has been on the wane since the tour of India, with his average dropping to 21.25.
Now, with South Africa having squandered another chance to win a series, after taking the early lead against England, Du Plessis has been pushed into a state of reflection as to how long he has left as a cricketer at the top level.
It was "most definitely … a possibility" that the Wanderers Test might be his last at home, he said, but made it clear that he would first see the team through the England series and a period of transition.
"What I didn't want to do is make a decision on emotion or where we are as a team," he said. "It's just about trying to be the strongest leader that I can be for the team.
"For now, that's committing to this series. The worst thing a leader can do is pull the plug mid-series and say, 'Sorry boys, I am out. I've had enough.' I don't think that's what leadership is about. You have to stick through the tough times as well. After the T20 World Cup, I will reassess where I am."
South Africa have just two more Tests, in the West Indies, ahead of the T20 World Cup in October, which gives Du Plessis ample time to reassess his Test credentials. Du Plessis himself admits that it's his place in the Test side that needs a more serious look into, as his white-ball numbers have largely stayed at the top or thereabouts.
"There isn't a lot of Test cricket left this year. There's one massive Test where we need everyone to be as strong as possible to try and draw the series. After that, there is quite a big gap and there is an opportunity then to release some of the captaincy when it comes to giving guys opportunities especially in one-day cricket.
"If I am brutally honest with myself, at the moment white-ball cricket is where I am most successful. In one-day cricket, my stats are up there with the best in the world. In T20 cricket, my stats are up there, but at the moment in Test cricket, my stats are not where they need to be."
For now, the mandate in front of Du Plessis is a simple one: Win the next Test against England and draw the series. He said he would do everything in his power to make that happen.
"For me now it's to be as mentally strong as possible because we need our leaders, our senior players in the team," he said. "We need to be strong. It's a tough time for all of us and we need to make sure we fight.
"Personally, from the point of a run of view, I am not up to the level that I should be but I still have a huge role to play as a captain to make sure I lift these guys up to win a Test match in the next game."
In partnership with ANA and Sports Leo