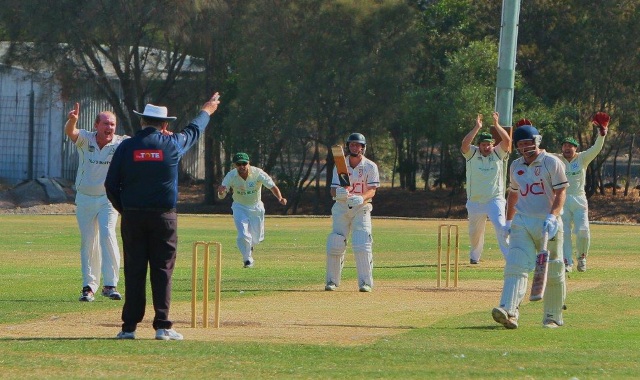 A four-wicket haul by Mogale Raphepe helped North West make it four wins from four at the RCASA Inland Senior Week after they eased past Gauteng on the penultimate day of action in Potchefstroom on Sunday.
There were also three wickets from Phillip Snyman as the local side extended their advantage at the summit of the table – and remained the only unbeaten team thus far.
There were also day four wins for the impressive Limpopo, Mpumalanga and KwaZulu-Natal Coastal.
However, they were all still playing catch-up to NW, whose latest victims suffered a seven-wicket loss at Boys High A Field.
Batting first after winning the toss, Gauteng were bundled out for just 112 in 32.1 overs as Raphepe made merry.
The medium-pacer from the Mafikeng Cricket Club claimed 4/28 in eight overs and was well supported by Snyman's 3/34.
Lyle Heilbron and Reuben Visagie then both struck 29s and Michael Enslin added an unbeaten 35 to help North West ease to their target in 19.5 overs.
The result moved the winners four points clear at the summit, with KZNC the closest to them along with Limpopo.
The men from Durban beat their neighbours from KZNI in their Sunday clash, with the former winning by eight wickets thanks to Ridwaan Malik Mlongo's sensational 4/27.
That five-over performance helped bundle out the opposition for just 90 in 19 overs after Inland won the toss and batter. There were also a fine 3/11 by Ruan Van Rensburg. Jason Redinger then hit an unbeaten 52 (77 balls, 10 fours) that drove Coastal to victory with 29 overs to spare.
In other action, Tyler Bruce Botha's 60 off 74 balls (eight fours, one six) played a key hand in Limpopo's 144-run trouncing of Free State. Batting first, they posted 246/9, before 4/21 by Sahil Patel and Gerhardus Fourie's 3/17 shot out the Bloemfontein-based side for 102.
Finally, Koketso Makwela claimed the best figures of day four – a return of 5/32 – to lift Mpumalanga to a 36-run win over Northern Cape.
In partnership with ANA and Sports Leo